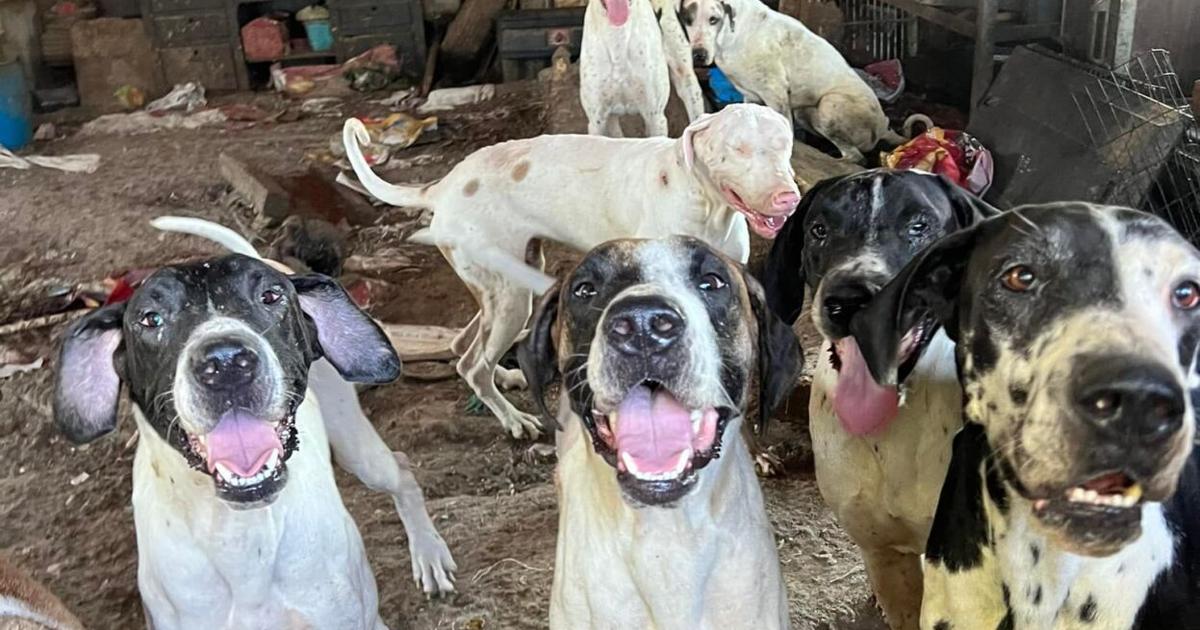 13+ Great Danes Rescued From Local Residence By Idaho Animal Rescue Network, Fosters Needed | Idaho
LEWISTON — On the morning of July 27, Idaho Animal Rescue Network personnel were called to the scene of a hoarding situation involving 13 Great Danes on Tammany Creek Road in Lewiston. The organization says there are many minor injuries, no vaccines, no sterilization, possible pregnancies, etc. They need help with food, straw, veterinary care, etc. Two of the dogs appear to have lived outside in a kennel, and the others lived in a filthy garage. The owner died, so help was needed as soon as possible.
On July 28, volunteers and the Nez Perce County District Attorney's Office helped remove the 13+ dogs from the residence. They are currently being examined by a veterinarian and receiving adequate care.
"We still have work to do, but we wanted the public to know that Great Danes are taken care of," said director Jenna Redheart.
"The dogs aren't out of the woods yet. We struggle with heat exhaustion, medical issues, fleas, sores, ammonia exposure, and weight loss. They have a long way to go, but I am confident they will recover very well. Headmaster Redheart continued.
Vet bills will add up quickly and anyone willing to donate and offset the costs would be greatly appreciated.
Many supplies are needed. The majority of dogs are 1-2 years old and very friendly. A couple is elderly. They were on an appalling diet, so the organization will be looking for food donations. They also need manpower and muscle. If you can help, contact the Idaho Animal Rescue Network.
These dogs will go to rescues and foster families. Adoptions will not be discussed until all have been assessed. Ideally, we need to put them all in their placements this weekend.
Anyone wishing to make a donation can do so by:
PayPal: PayPal.me/IdahoPetRescue
Venmo: IdahoPetRescue (4-digit code is 9751)
Address:
Idaho Animal Rescue Network
2021 Ripon Avenue
Lewiston ID 83501