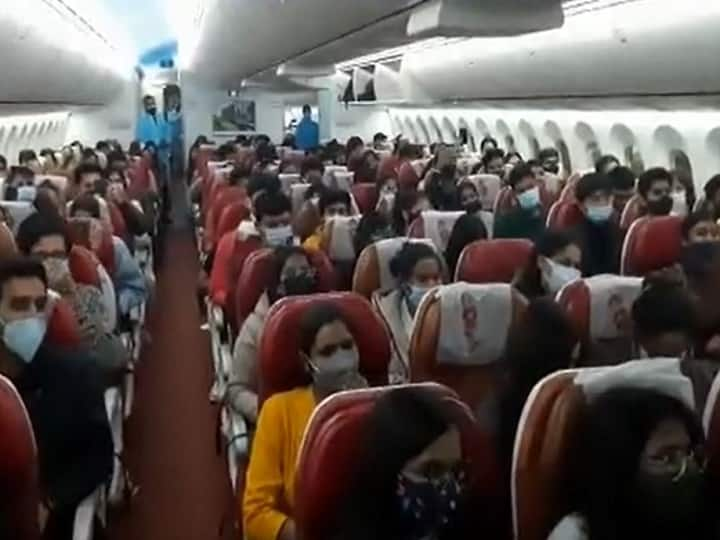 219 Indians reach first Air India flight to Mumbai from Ukraine India evacuation plan
New Delhi: Amid the invasion of Ukraine by Russian troops, 219 Indian nationals stranded in Ukraine reached Mumbai safely. The Air India evacuation flight took off for Bucharest, the Romanian capital, around 2 p.m. on Saturday. With the airspace of the Ukrainian capital, Kyiv, closed, people are being evacuated from neighboring countries.
Union Minister Piyush Goyal welcomed the Indians who arrived in Mumbai. "Since the beginning of this crisis, our main goal has been to bring back every Indian stranded in Ukraine. 219 students have arrived here. This was the first batch, the second batch will soon arrive in Delhi. We will not stop until all of them are back home," he said.
Happy to see you again.

First step of #OperationGanga. https://t.co/4DgLIc7GYM

— Dr. S. Jaishankar (@DrSJaishankar) February 26, 2022
Mumbai's Chhatrapati Shivaji Maharaj International Airport (CSMIA) has blocked a special corridor for Indian students arriving from Ukraine. A team from the Airport Health Organization will carry out mandatory temperature screening of returnees in accordance with guidelines set by the government, the CSMIA spokesperson said.
Returnees would be required to produce a Covid-19 vaccination certificate or a negative RT-PCR report upon arrival. If someone does not have either, they will undergo an RT-PCR test at the airport. The cost of the test will be borne by the airport, the CSMIA spokesperson said.
Meanwhile, the second evacuation flight took off from Delhi on Saturday around 11:40 a.m. and was due to land in Bucharest at 6:30 p.m. India Standard Time, news agency ANI reported.
Indian nationals stranded in Ukraine who reached the Ukrainian-Romanian border by road were taken to Bucharest by Indian government officials from where they were evacuated by Air India flights.