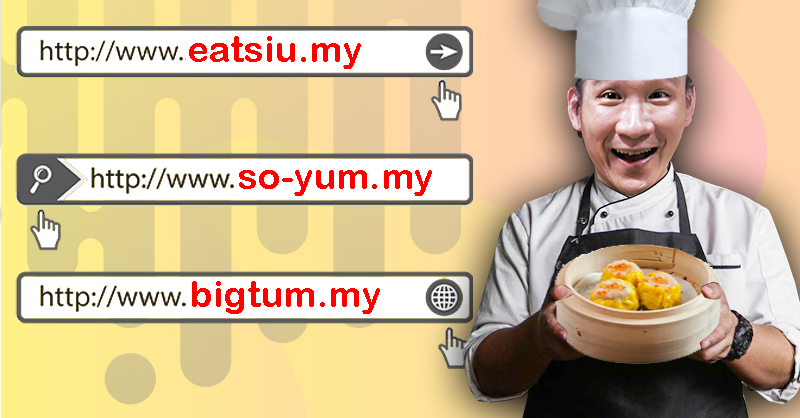 8 Creative Malaysian Website URLs That Are Surprisingly Always Available
If you've decided to start a business or start your career as a freelancer, the first thing that probably comes to mind is:
When it comes to choosing an address, you can just do the obvious and name it with your business name. But this may encounter problems when the name is taken or when the The URL becomes an unintentional joke – such as when an IT asset disposal company registered their website as www.itscrap.com. Ideally, you would also want something that is memorable and easy to type so, for example, if your name is Helmy, a possible option would be www.helmy.com.
But wouldn't it be cooler if it was hel.my?
Turns out Malaysia has an awesome country suffix, or more properly known as country code top-level domain (ccTLD)in the form of .MY, which basically means that the website is owned by a person or company based in Malaysia. These areas are administered only by our friends from Mynic Berhad, with whom we have partnered not only to provide you with creative options for a .MY URL, but also to point out some benefits that having one brings to your website.
You can still get
eatsiu.mon

for your dimsum business – and more!

While MYNIC administers nine categories of domain names, some of them are reserved for specific use such as military (.mil.my) or education (.edu.my). For the majority, anyone can use a .MY but you can click on this link to find out what each category means if you are curious.

We have checked the availability of these sites on the MYNIC site, so can confirm 100% that they are still available at the time of writing:

so-crea.my

If you are going into the ice cream or yoghurt business.

clari.net.my

If you open a music store… especially a wind instrument store. Alternatively, this can also work if you are building an IT infrastructure business.

fish.net.mon

If you sell socks…. or real fishing gear 🐠

eatsiu.mon

If you have a dimsum delivery service, you get both a URL and a tagline.

too good

At first we were thinking of a restaurant, but it might be better suited for a foodie blog or a makan restaurant review site.

babyinmytum.my

Some people use cakes or dinners to surprise their family with a new cahaya mata, so… why not a website?

big belly

This one is a bit more versatile…it can be used for a foodie blog, but also for fitness, or you know…cahaya matas.

superstea.mon

Do fikir bukan-bukan ah. It can be a site selling tea or a sauna/spa.

Besides having a great conversation starter, there's also a major practical benefit to getting a .MY domain – better discoverability online.
.MY domains get better Google search results in Malaysia
When you search for something online, there's a 99.69% chance you'll land on Google. So, if you are looking to promote your business, having a website would be much more effective than a social media profile or a store on e-commerce platforms like Lazada or Shopee.
MYNIC CEO Datuk Ts. Hasnul also made a very compelling point when we spoke to him, saying that Google prioritizes local websites in a particular region; This basically means that you are more likely to appear on the first page of search results when you have a .MY suffix in Malaysia.
"Malaysians search Google 20 million times a day. There are 8 million registered businesses in Malaysia, but only 800,000-900,000 have a website [whether .MY or .COM]. Those who don't are losers because it is very difficult to be visible only on social networks. – Datuk Ts. Hasnul in CILISOS
In addition to showing some national pride, a .MY the domain also indicates the legitimacy of the company or people behind the site; since you need to provide some documents when registering – More info here.
But what if your domain name has been taken?
One thing we quickly learned is that many simple words like mom, myoh.myor even jere.my are already taken. But if you go to several of them, you might either get an inaccessible page or a page with a blank page and some ads on it…
They are either forms of domain car park, or worse, cybersquatting; and for the most part that means you'll have to come up with a different name. However, if you think you have reason to own this name, MYNIC can help you File a Dispute at the Asian Center for International Arbitration. They will not be involved in the conflict itself, but they will enforce all decisions made by the center.
However, just as you patent an invention or immediately register your company name with SSM, the best way to ensure you get the domain name you want is to simply buy it before someone else beats you to the fist. On that note though, some domain names are restricted because they are considered offensive, so you would want to avoid any ethnic, religious, or sexual slurs.
And yes, sodomy is completely unavailable. We have checked.
Datuk Ts. Hasnul says country-based domains follow local laws, and MYNIC will engage local linguists from time to time to determine what is offensive, as well as to consider complaints from the public. Their biggest problem? Ass.
"A lot of words have a combination of 'ASS.'
You can put your name on the internet from RM32 per year
Unless you aim truly premium domain names, you don't have to pay more for a creative. Whether you pass by MYNICs partner suppliers or companies like come on daddyprice differences depend on additional services or promotional discounts you receive. Here is a complete list of prices for the domain name only.
If you have no idea how this whole website works, or if a small business thinks you don't have the budget to build a fancy website, Datuk Ts. Hasnul points out that many successful small entrepreneurs through The MYNIC PRIME program no more. They just put a great product on their website, a Whatsapp or a phone number, and customers reached out.
"It's not about the complexity of the website. You might not even need a payment gateway. [Many small businesses] just put a phone number or Whatsapp. Don't be bullish thinking technology will help you – business fundamentals still apply. Evolve within your means. – Datuk Ts. Hasnoul
And sometimes that's all you need.