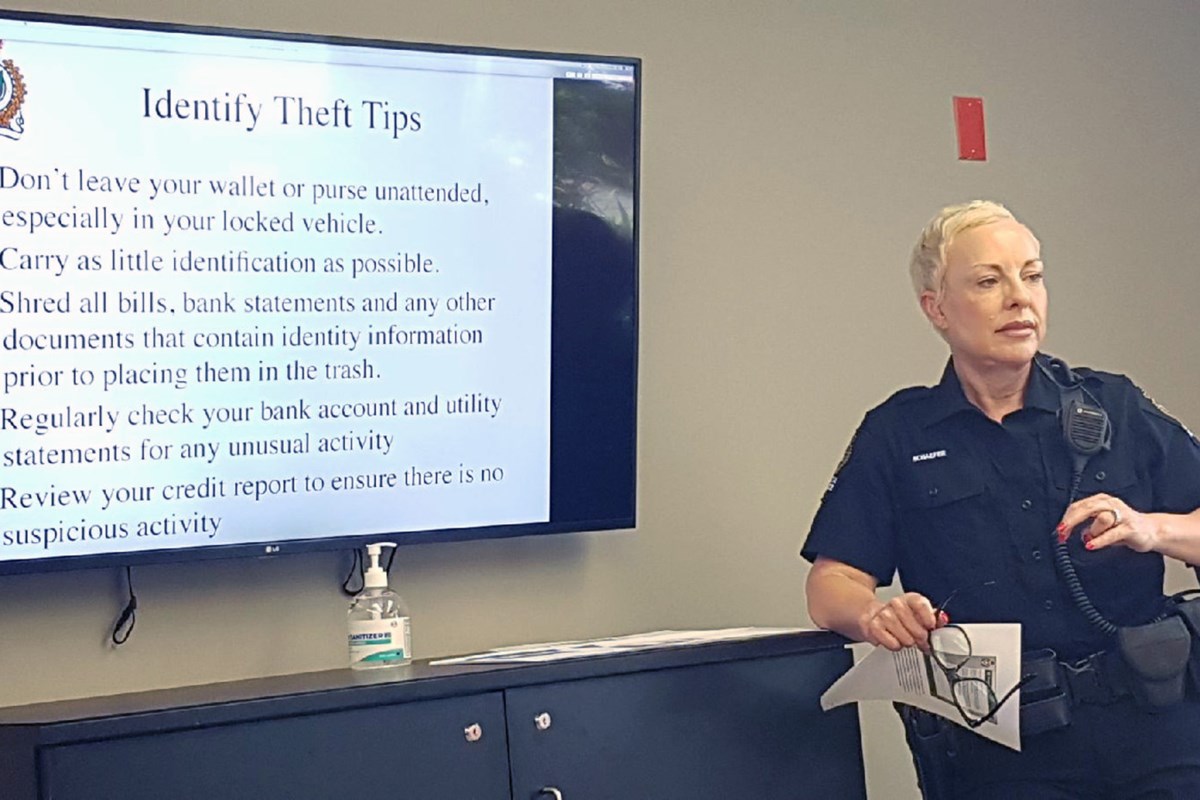 Delta Police offer advice on how to avoid cybercrime
Delta Police discuss how to stay safe online and on the phone during a presentation last week at KinVillage
After hearing details on how to avoid a myriad of scams and crimes offline and online, one attendee summarized the advice.
"It's scary out there. If in doubt, don't insist," the elder said following a Delta Police presentation on fraud last week at the KinVillage in Tsawwassen.
Older people are targeted by scams because they are vulnerable, lonely or isolated, overconfident, and may have saved money from a lifetime of hard work.
"You were raised to trust people and believe that people are there to do good things. Unfortunately, that's your biggest downside is that you're too trusting," said Leisa Schaefer, media relations manager.
But young people are also being targeted and also overly trusting, such as when agencies hand over information without verifying whether it is the police making the request, Const. Dustin Classen, with the Delta Police Cybercrime Unit.
The police gave security advice on a range of scams, some old and some new.
The North 40 Dog Park, a paradise for thieves
Anti-fraud advice that predates the online world still applies.
For example, any paper statements or invoices containing personal information should be shredded or destroyed so that this information does not end up in a recycling box or dumpster. Also, since the pre-internet era, don't leave your purse or wallet in your car, carry as little ID as possible, and check your bank statements regularly.
"The North 40 dog park is infamous for people who do this, (vehicle break-ins)," Classen said.
Only around 5% of scams are reported to the police, with people often too embarrassed to admit they have been cheated.
But even computer experts can be victims of crime, he said.
Overall, approximately one million people in Canada fall victim to fraud each year, with credit card fraud costing $548 million and debit card fraud costing $16 million.
A more serious recent trend is the rise in the number of bitcoin machines, similar to ATMs, popping up around the city, ready to gobble up cash anonymously.
"By and large, it's the victims who use these machines," Classen said.
Many scams involve aggression, fear and threats, such as arrest or deportation, made over the phone saying that only the caller can help them and demanding that they don't speak to anyone.
Classen even saw a scam in action last year while on patrol and noticed a man and woman looking confused in front of a Bitcoin ATM.
The woman was trying to buy a puppy online and was cheated out of money every step of the way, despite being warned it was a scam.
The woman even texted the scammers to send the puppies to her because she didn't want to talk to detectives anymore.
Once people give money the first time, it's easier for them to be tricked the second time. "Once you start giving, I don't know what it is, you just keep giving," Classen said.
How to Avoid Phone Fraud
Audiences watched a brief video illustrating the grandparents scam, which involves the panicked voice of a younger person in crisis calling grandma or grandpa and saying they need money immediately.
Once the grandchildren have joined the eldest, another voice is heard with step-by-step instructions for depositing the money.
Staying safe requires being alert to a myriad of scenarios that could separate someone from their money.
Phone fraud has been around for a while.
If you see a "+1" in front of the 778 prefix, it's likely a scam call, Classen added.
And once you answer, you're likely to receive more calls later.
"If you don't recognize the number, you don't need to pick up," Schaefer said.
"If someone really needs to reach you, they will leave a message."
Avoid clicking on unknown web links
When it comes to the World Wide Web, there are an almost endless number of ways people can be defrauded, have their identities stolen, or allow predators to access confidential files.
Clicking on a bogus link, either on a webpage or in a text or email on a mobile phone, could install malware on the device. This could then activate the cell phone's camera and allow access to emails and passwords.
Fake email or text message notifications purporting to be from banks or the Canada Revenue Agency are common. Clicking on any link, just out of curiosity, can cause problems.
"So just clicking that link can cause a whole world of suffering," Schaefer said.
Microsoft's supposed pop-up notifications about web security or updates are also fake
Also, people need to be careful about the type of websites they sign up for. If those sites are no longer in use, cancel them, Classen added.
Fraudulent websites that pretend to be something they are not should also be avoided, as well as strange texts and links that enter your phone.
"We don't click on the link. There is no confusion in your mind," Classen said. "Don't click, delete."
A growing problem is that of sextortion which involves a copycat requesting revealing photos, only to seek out more explicit photos, threatening to publicly shame the victim if they are not sent.
In an investment fraud case in Delta, a resident lost her home here and in China. She sold both to raise money for an investment scam. "At the moment, she doesn't know where she's going to live next month," Classen said.
Never give out your personal information
Never give out your name, date of birth, social insurance number or address, he added.
Identity fraud is prevalent, Schaefer said.
Once someone has your identity, they can use it to rent a high-end vehicle which is then shipped overseas.
Data breaches on companies that store your personal information, like what happened with Equifax a few years ago, "happen often," Classen said.
Keeping computers, tablets, and cell phones up to date with the latest operating systems and antiviral software is essential.
If you click on a suspicious link, do not use the computer and take it to an expert for diagnosis.
If seniors think they've been scammed, cheated, or defrauded, call the cops.
"Forget about being embarrassed. Give us a call," Schaefer said.