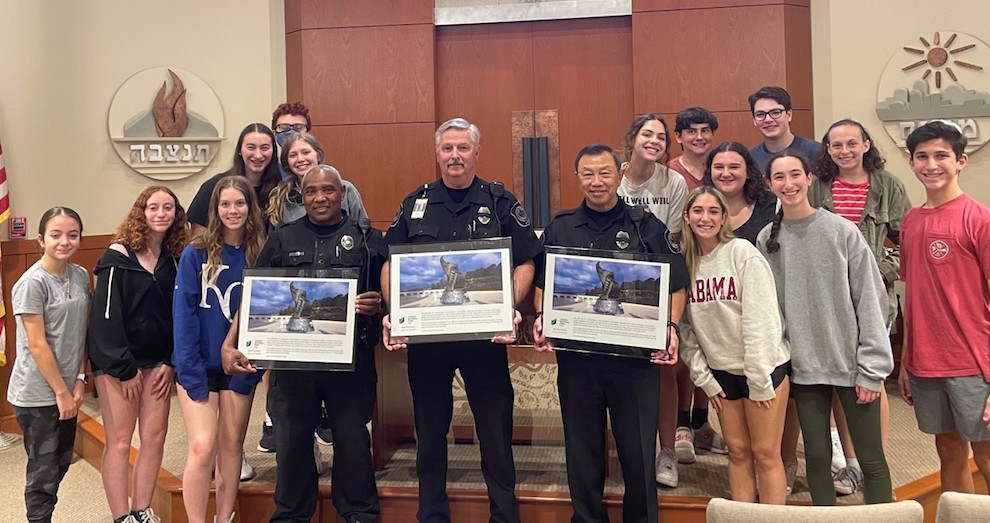 Etz Chaim Congregation honors Cobb Schools Resource Officers
Etz Chaim Congregation of East Cobb celebrated the anniversary of the September 11, 2001, attacks this week by honoring Cobb County School District Resource Officers.
Their presentation on Wednesday to Resource Officers Jerry Quan, William Marshall Duling and Kevin Brunson, thanking them for their service, was done in partnership with the Jewish National Fund-USA.
Teenagers from the synagogue's youth group presented plaques to the officers.
"I felt inspired to see the people who keep me safe in the synagogue I grew up in," said Mia Kleinman, a teenager from Etz Chaim.
Said Tamar Oren, a senior at Sprayberry High School: "Officers are like our fathers in school. They talk to us in the lobby and are people we go to for absolutely everything. I know they risked their lives and I will be eternally grateful to them.
Rabbi Etz Chaim Daniel Dorsch said, "We continue to be grateful for our community's partnership with the Jewish National Fund-USA which has allowed us to honor our law enforcement personnel in such a way. special and meaningful.
According to a JNF statement, the plaque features the JNF's Living 9/11 Memorial in Jerusalem, which is "the only such memorial site outside the United States that lists all the names of those killed on September 11." September 11th.
"It represents the firefighters, paramedics and police officers who made the ultimate sacrifice and worked tirelessly to save countless lives on that infamous day, and honors the first responders who risk everything to protect and serve. Established in 2009, the monument reflects the deep bond between the State of Israel and the United States, and our countries' shared values ​​of peace, religious tolerance, democracy and counterterrorism.
Related:
Receive our free newsletter by e-mail!
Every Sunday we round up the week's top headlines and preview the week ahead in the East Cobb News Digest. Click here to register, and you're ready to go!
Related