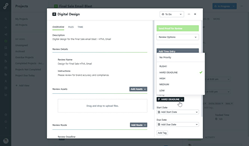 Lytho launches resource management for brand and creative teams
Clients consistently tell us that their teams are struggling with increasing workloads and juggling priorities. A phrase we often hear is "help us tame the chaos". Resource Management is the result of working with these customers to create a tool that does just that."

RALEIGH, NC (PRWEB)
March 15, 2022
Lytho today announced the launch of Asset Management – a collection of features added to its creative workflow software platform. Resource management provides brand and creative teams with tools to improve productivity and manage stakeholder expectations while preventing burnout. This helps solve a significant challenge as many of these teams have grown because companies have brought in more of the work traditionally done by external agencies.
"Small teams focused on core in-house creative needs have grown into full-fledged in-house agencies," says David Williams, chief product officer at Lytho. "It also brings a higher level of complexity: these teams have more stakeholders, projects and assets to manage. They also have a greater need to prove their worth and justify their resources.
The features were crafted a year ago and are particularly suited to serve brand and creative teams. Research and development involved more than 60 in-depth interviews with 50 enterprise customers as well as multiple beta tests and iterative releases. Lytho customers have been involved in shaping resource management at every stage of development. Feedback on the final version has been overwhelmingly positive.
The software supports both brand managers — and individual creatives — with tools to align resources to work in a framework Lytho calls PAWS. The acronym stands for Priorities, Availability, Workload and Specializations – each of which are also software components:

Priorities allow customers to designate a priority level for tasks, galleys, and projects. It's fully customizable so brand and creative teams can match the taxonomy to their creative processes. For example, some organizations prefer to use a simple "low, medium, or high" naming convention, while others use a number-based system such as "level 1, level 2, level 3". Alternatively, words can also be used to label priorities: evidence that has entered the review and approval process can be tagged with a requirement of "legal review" or "CMO review" or some other designation.

Availability allows the team leader to understand how hard their team is working and maximize efforts to avoid creative burnout of the team. This view takes into account an individual's existing workload, by volume of work or level of effort (measured in hours). Customers can log calendar events, such as company meetings and paid time off (PTO), into the system, which will then be factored into availability. This helps avoid administrative errors such as assigning a designer on vacation to a newly requested project. Likewise, availability can be configured to accommodate policy decisions. For example, an organization may realistically determine that designers only have six hours a day for creative or design work in a standard eight-hour day.

Workload is a visual way to see upcoming deadlines and work currently assigned to a team or individual contributors. Data can also be viewed by an established team, such as the social media team, or by a specialization, such as all graphic designers in the organization. It's an easy way for managers to ensure the workload is evenly distributed and helps keep projects on schedule. Lytho customers have noted that this view is useful for Monday morning stand-up meetings and one-on-one meetings with team members.

Specializations ensure that the right people with the right skills are assigned to a given job. Customers can create and assign specialties, such as "project manager" or "graphic designer" to their team members. In many ways, this helps match priorities with availability.
Last year, the company formerly known as inMotionNow merged with Lytho in a strategic transaction unifying creative workflow with digital asset management (DAM). The company has since been rebranded as Lytho and Asset Management marks the first major release of the software after the merger. However, this is only the first step in realizing a much larger vision that the company has articulated to customers in an ambitious product roadmap.
"Clients consistently tell us that their teams are struggling with an increasing workload and juggling priorities," added Williams. "A phrase we often hear is 'help us tame the chaos.' Resource Management is the result of working with these customers to create a tool that does just that – and there's more goodness to follow.
# # #
About Lython

Lytho provides resource management software for brand and creative teams. We help these teams grapple with the natural complexity that comes with managing multiple stakeholders, projects and creative assets. Our flagship products include Creative Workflow and Digital Asset Management (DAM). These tools provide efficiency and simplified collaboration at each stage of the creation process, from project reception to measurement. Over 600 enterprise clients worldwide use our software to help tame chaos and drive greater business impact through improved predictability, stronger brand consistency, and ultimately better creative results. The SaaS-based technology is easy to implement, intuitive, and backed by a top-tier customer service and support team with offices located in the US and Europe. For more information, visit us at Lytho.com.
Media Contact:

Frank Fort

for Lython

202-352-5920

[email protected]
Share the article on social networks or by e-mail: