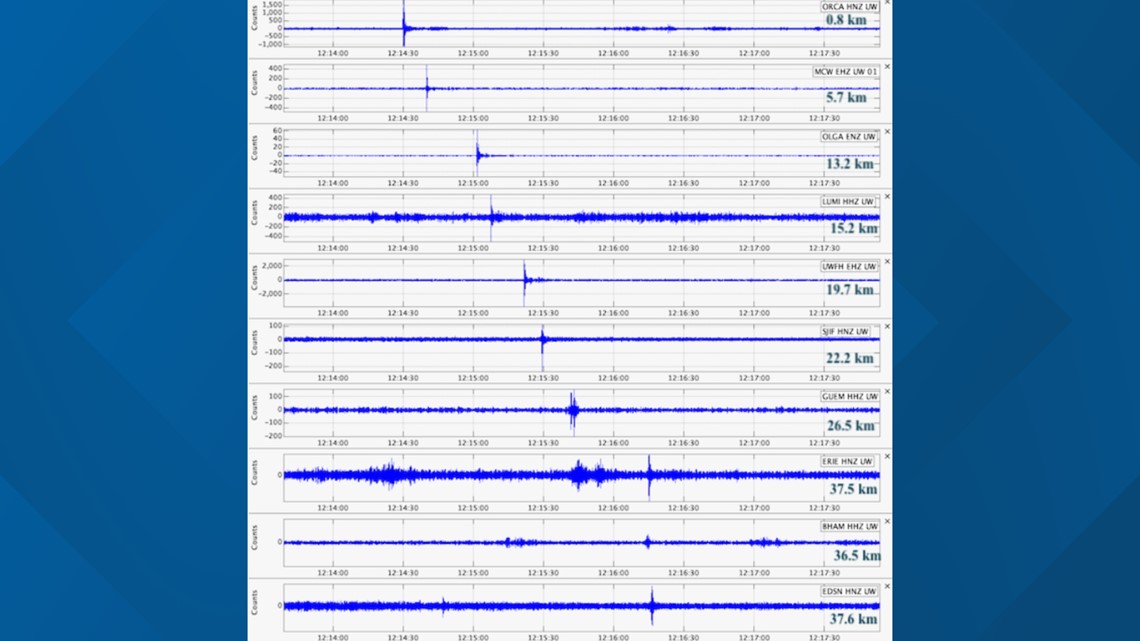 Seismologists investigate 'mysterious boom' on Orcas Island
A mysterious boom recorded on the San Juan Islands seismic array catches the attention of researchers. What could be the source?
EASTSOUND, Wash. – The Pacific Northwest Seismic Network (PNSN) is investigating a "mysterious boom" heard from Orcas Island last week.
The boom was heard early in the morning of March 7 by retired seismologist Tom Owens, according to PNSN. It also reported a similar boom accompanied by a flash of light in December.
Owens checked PNSN seismic records and found that a "short pulse of seismic energy" had been picked up by PNSN seismic stations on the San Juan Islands. He contacted the Seismic Network to see if the researchers had any ideas what the sound might have been, according to a blog posted by PNSN.
Steve Malone, professor emeritus at the University of Washington and former director of the PNSN, was able to get an approximate location of the source of the boom by looking at the time the boom registered on various network instruments. Malone determined the boom occurred near Crescent Beach Preserve just east of Eastsound on Orcas Island.
Malone found that the boom was not caused by a shaking of the ground, saying the seismic recordings were consistent with the "velocity of acoustic (sound) waves in the air".
The atmospheric conditions for what was a "relatively small explosion" had to be perfect for the boom to be clearly registered up to 23 miles from the sound's origin, Malone wrote. Little wind and a stable atmosphere without large temperature fluctuations are required for sound waves to cover this distance.
Was it a meteor? A ball of fire? Booms have come from these sources before, and a meteor was captured on a doorbell camera in Bellingham the same night. However, it occurred 15 minutes later than the boom recorded on PNSN seismic records.
"There are only a few very small possible cues that could be attributed to it," Malone wrote. "So our mysterious explosion was not a high atmospheric explosion."
Other nighttime booms were recorded by the San Juan Islander and on social media, but only one appeared to be similar to the sound heard on March 7. According to PNSN recordings, a nighttime boom was heard on December 5, 2021, which was recorded on seismic stations in the area.
The noise seemed to come from slightly south of Crescent Beach in Ship Bay. However, the error estimates could bring the source of the boom back to earth, near the same location as the boom recorded on March 7, Malone said.
"At this point we are left with explosive sources that are probably not legal for at least some if not all of these booms," Malone wrote.
The PNSN has previously detected and located accidental explosions, including one in North Seattle and one in Port Orchard that have resulted in fatalities.
"The early hours and no one taking credit for these booms makes them less than innocent," Malone wrote.
The San Juan County Sheriff's Office has been investigating similar reports of mystery booms and is asking anyone with information to contact them at (360) 378-4151 or the anonymous tip line at (360) 370- 7629. Anyone who hears strange nighttime booms is encouraged to email PNSN at [email protected] with times and general area of ​​noise to see if they have been recorded seismically.