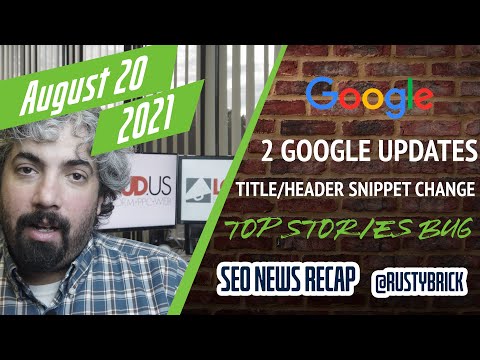 Two Google Algorithm Updates, Deployed Link Spam Update, Snippet Title Changes, and Top Stories Bug
This week, we haven't had one, but two unconfirmed updates to the Google search ranking algorithm – one on Saturday and one on Wednesday. Google said the link spam update, which was scheduled to roll out about two weeks ago, is still being rolled out. Google has changed the title link it displays for snippets, it now extracts more headers. There was a bug with images not showing up in Top Stories this week for a while. Google has told us what we can do to make sure we're on track for basic update recovery. Google's Danny Sullivan once again confirmed that personalization in search is extremely light and a rare ranking signal. Search Console has a new filter in the performance report for multilingual results. Google replaced the comments link with a report link for knowledge panels. Google is looking to improve the changes to the info sheet. Google has opened the Indexing Bug Reporting Tool to more logged in users. Google is looking for bad behavior from Googlebot. Google said it was trying the old redirects again for years. Google Ads has a new label that says "paid by" for political ads. Local Google labels some reviews as from the web and independent sites. A pol shows that most SEO projects don't lead to positive results for clients. And if you want to help sponsor these vlogs, head over to patreon.com/barryschwartz. It was research news this week at the Search Engine Roundtable.
SPONSOR: This week's recap video is sponsored by Strong Interactive, a Chicago-based SEO company run by Brent D. Payne.
Be sure to subscribe to our video feed or subscribe directly to iTunes to be notified of these updates and download the video in the background. here is Youtube stream version:

For the original version of iTunes, Click here.
Find discussion topics:
Thanks subscribe on youtube or subscribe through iTunes or your favorite RSS reader. Remember to comment below with the correct answer and good luck!